I offer mokume gane wedding ring classes for those looking for something colorful and custom. Mokume gane is the obscure and interesting Japanese technique of layering precious metals to form patterns. Few jewelry stores stock mokume gane due to the extensive labor involved. As we pattern all mokume rings by hand, each ring is unique.
** The ring photos on this site have more color contrast than do the rings in person. Mokume gane rings are far more subtle than they appear on screen. If you would like to see some mokume gane rings in person, you are welcome to schedule an appointment to view samples at my shop.**
Nearly all of my customers create rings in either the star or the woodgrain patterns. Please contact me if you are interested in a different pattern.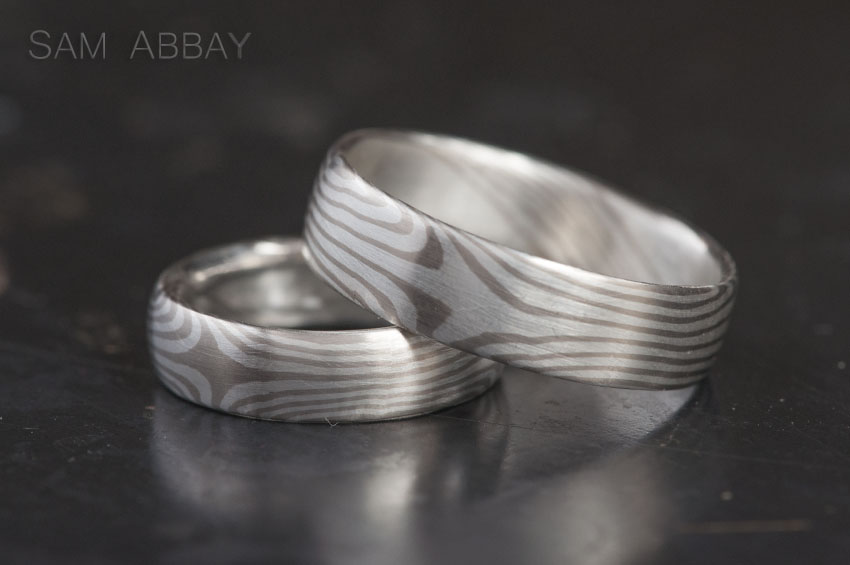 Star pattern mokume gane wedding rings are less time consuming to make than the woodgrain pattern. Because of fabrication technique, the rings will have matching but non-identical patterns. Workshops generally last 10-14 hours, depending on the clients.
$3250 includes labor, raw materials, and sales tax for a pair of rings.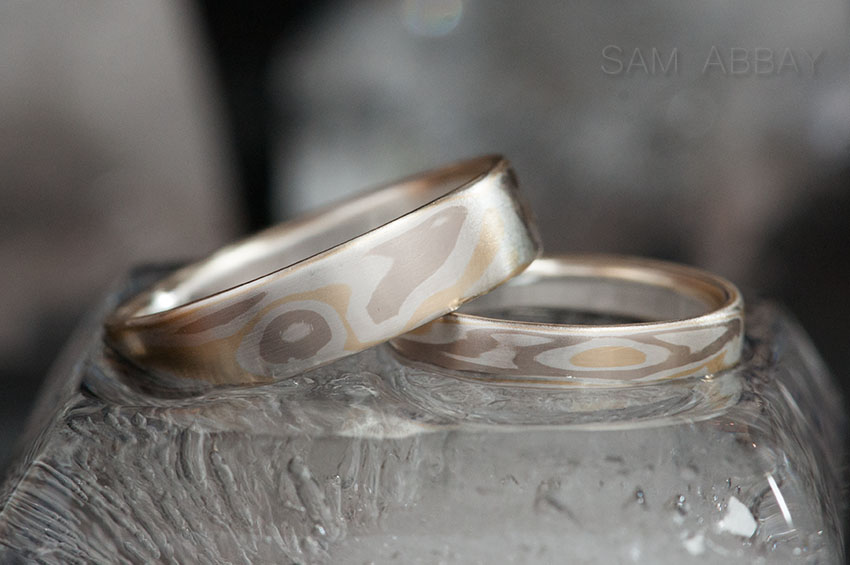 Woodgrain patterns are carved into the metal, then flattened to create ring stock. A great deal of variation is possible in the patterning stage, giving the designer more control. Patterning tends to take longer for woodgrain rings - 12-16 hours for beginners - making them more expensive.
$3950 includes labor, raw materials, and sales tax for a pair of rings.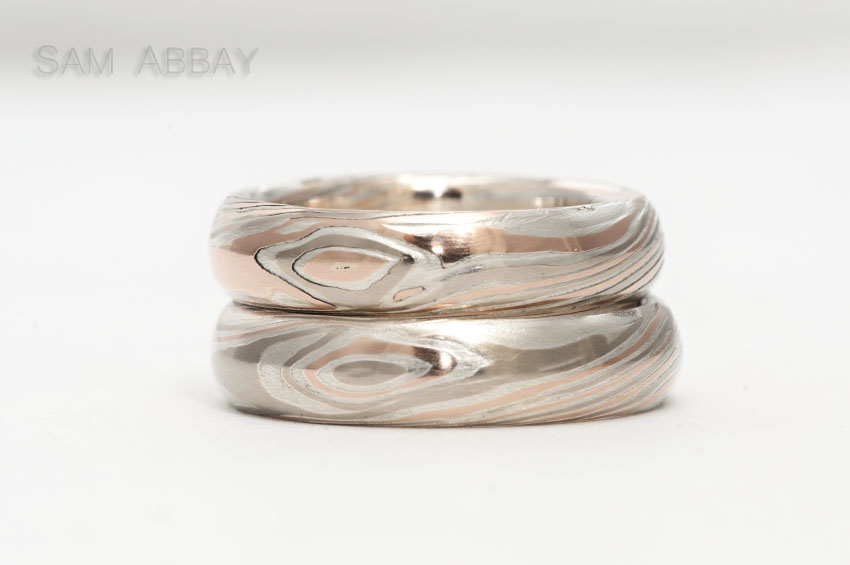 Most clients create rings from one of three color combinations: silver & white gold; silver, yellow,
and white gold; silver, white, and red gold (pictured above). Mokume with silver can be etched
to create a more defined, textural pattern. I charge $200 for etching.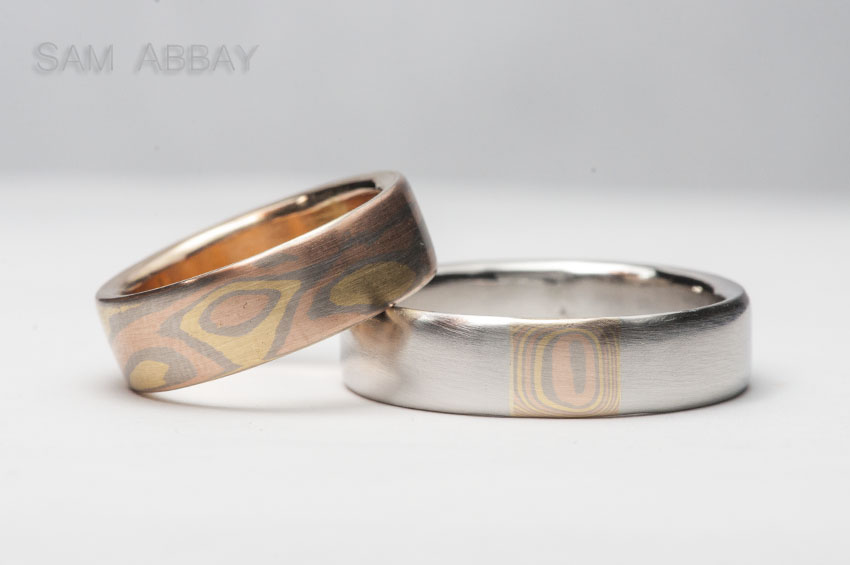 We can form mokume gane rings without sterling silver. I offer yellow gold and palladium, as well as white, yellow, and red gold. These combinations cost $1K - $2K more per pair of rings.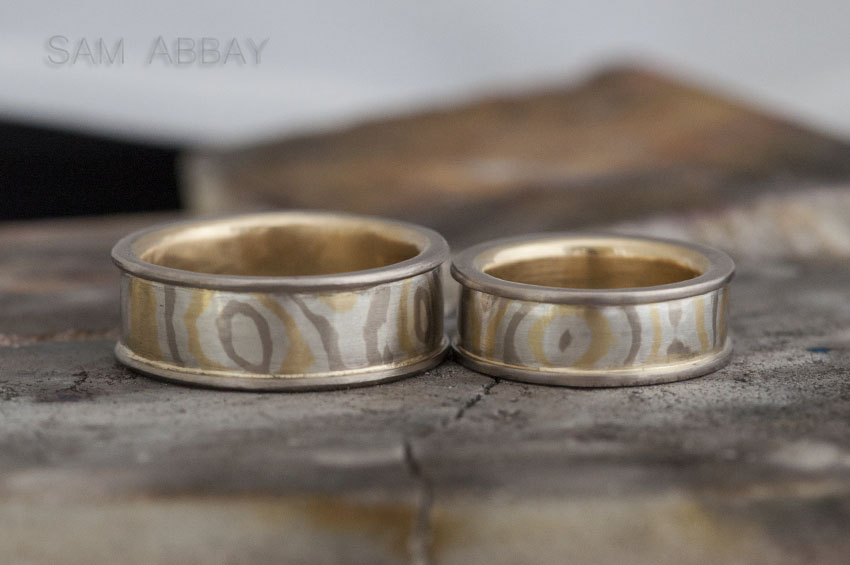 Gold rails and/or liners can be added to mokume rings. Rails can be raised (above) or flush
to frame the pattern and make the ring wider. Liners will add weight and thickness to a ring.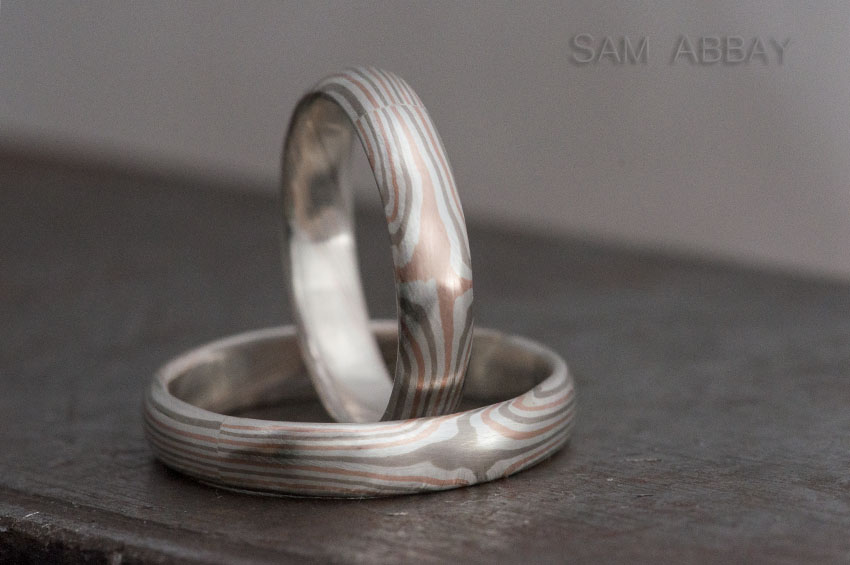 In addition to the mokume color combinations, clients choose the ring width, and a flat or rounded profile (pictured above). There is a small additional charge for rounded bands.


Many other possibilities exist with mokume rings. Contact us if you have questions or back to prices page.
© 2017 Sam Abbay - New York Wedding Ring dba Sam Abbay